Beer Equipment & Components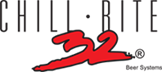 CHILL-RITE is a high value provider of leading edge beer and beverage dispensing equipment that delivers innovative beverage solution and increased profits to operators.CHILL-RITE strongly believes in doing every job right the first time and backs up its words the CHILL-RITE 32 No Risk Guarantee.your system is right the first time or it's FREE.
CHILL-RITE's mission is to build beer and beverage dispensing systems that provide innovative solutions to operators beverage needs.CHILL-RITE systems incorporate easy installation and operation, low maintenance, and superiority in quality and performance to the competition. Our focus is to deliver 32 deg beer product and other beverages to the consumer at desired temperatures so that the venue operator can truly maximize his profits.
*Every application is unique so CHILL-RITE 32 engineers each system to meet the profit needs of its customers at the lowest possible cost.
For a custom system call Brian Pence, Sales Manager at 800-460-4268.